Must read information before purchasing any new tools!
Manufacturers data and how to make it work for you
How is manufacturers data best used?
Manufacturers Vibration data (m/s2)
When a manufacturer produces a new tool they must measure the magnitude that tool is vibrating at then publish that data in the tool handbook along with the standard it was measure at. Why? The HSE say: 'Tool and machine manufacturers are obliged by the Supply of Machinery (Safety) Regulations 2008 (as amended) to design equipment which will reduce vibration risks to as low a level as possible, making use of the latest technology. The equipment should be CE-marked to show that it complies with these requirements, and health and safety information should be provided in the user instructions'.
Where do manufacturers get their data?
For most types of tool manufacturers use agreed methods for vibration testing, making easier comparison for different brands using the same tool types.
How this causes problems
The HSE also say: 'Unfortunately, many of these test methods do not represent the way tools perform at work and vibration levels in the workplace may be much higher than those in this type of 'laboratory' test'. This is where TheToolAdvisor saw the opportunity to publish our own information using genuine in use data.
Why are manufacturers not always open about their magnitude data?
With companies taking HAV management more seriously instead of ignoring and hoping the situation will just disappear, they have now realised that it is not going to go away. It is possible that some manufacturers have seen having a higher vibration magnitude as a negative selling point. So they may choose not to make their data completely public and just put in the tool manual – At TheToolAdvisor we find this information so you don't have to.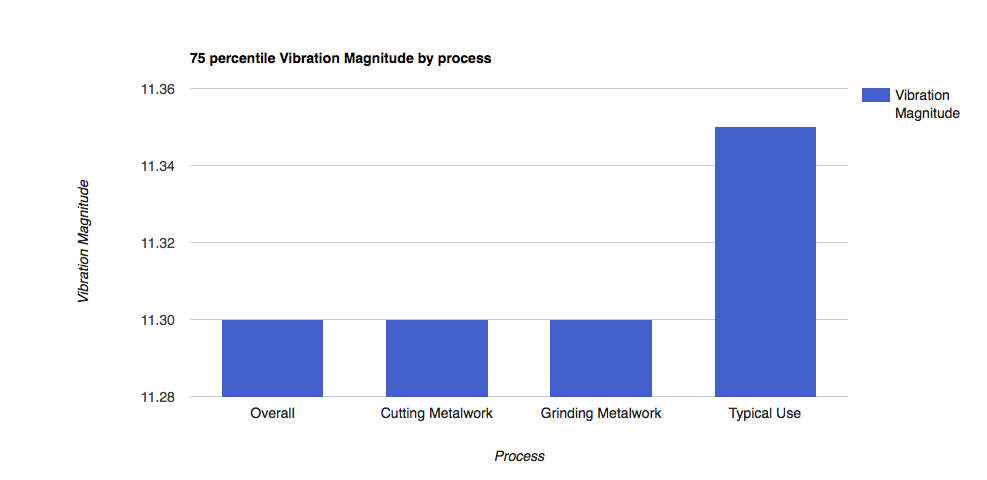 TheToolAdvisor data & the 75% Percentile vibration magnitude by process
In the data we have produced on TheToolAdvisor, we measure our data to ISO 5349 giving you accurate in use data, whilst still giving you the option to view the manufacturers data. Saving you time searching for the right information, we've put it all in one place. We would recommend searching all forms of information when looking for your next purchase – The manufacturers data, although technically correct wouldn't necessarily apply to what you're doing.
Joel Clarke
TheToolAdvisor